Two Day Tour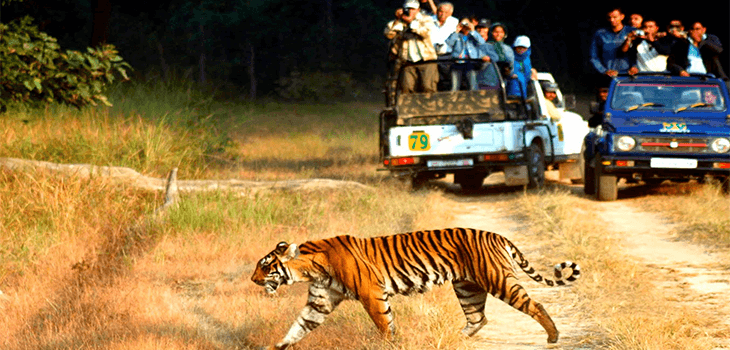 Jim Corbett National Park
Place to Visit:
| | |
| --- | --- |
| Gujari Temple | Museum |
| Jungle Sufari | River side |
Jim Corbett National Park
Jim Corbett National Park - is one of the most popular wildlife sanctuaries in India. The park, which is home to a number elephants, tigers and leopards, is spread over an area of 322 sq km (core area). Jim Corbett National Park was set up in 1936 and was once the hunting ground of the British. Jim Corbett National Park was declared a tiger reserve in 1973 under the Project Tiger, which was aimed at ensuring the safety and growth of tigers.

India is a heaven for Tigers as well as its prey, which include four kinds of Deer, Wild Boar and some lesser-known animals. Leopards are mostly found in the hilly areas of the Corbett park. Some nocturnal cats found here are the Leopard Cat, Jungle Cat and Fishing Cat. Sloth Bear is found in the lower regions of the park while the Himalayan Black Bear is seen in the higher hills only. The Dole or Wild Dog, though they can be seen in the southern areas of the park along with the Jackal. Some of the smaller residents of the park are Himalayan Palm Civet, Indian Gray Mongoose, Common Otter, Blacknaped Hare and Porcupine. Elephants are among one of the main attractions of Jim Corbett Park. Along the Ramganga River shores, one can spot the long-snouted, fish-eating Gharial Crocodile and the 'Mugger' Crocodile. Also seen on the rocky hillsides is the Ghoral or Goat Antelopes. The Langur and Rhesus Monkeys are well distributed through out the jim corbett national park and warning the whole Jungle with alarm calls when they see either a Tiger or Leopard from tree-top perches.
Jungle Safari
Jungle Safari : When you want to explore the wilds of the remote areas or the dense ones, the optionis to board a jeep. Why a Jeep? Well, it's the most secure way if you don't want to get scared when you hear the growl of a Lion or Tiger! More of all jeep is the best way to get the inside look of the forest and its topography. You can enjoy the jeep safari tours available in the Corbett National Park. You will get a whole new Jungle experience in this wildlife sanctuary while moving about in a jeep. And do not forget to click some pictures too.
Museum
The complex at Dhangari gate has a visitor center where visitors are oriented towards Jim Corbett National Park's ecology and biodiversity. In a museum nearby triphies of tiger, leopard and other animals have been put on display. The complex also has a cafe and a nature shop from where souvenirs can be purchased.
Book Now
North India Tour Packages