Chennai Tours Packages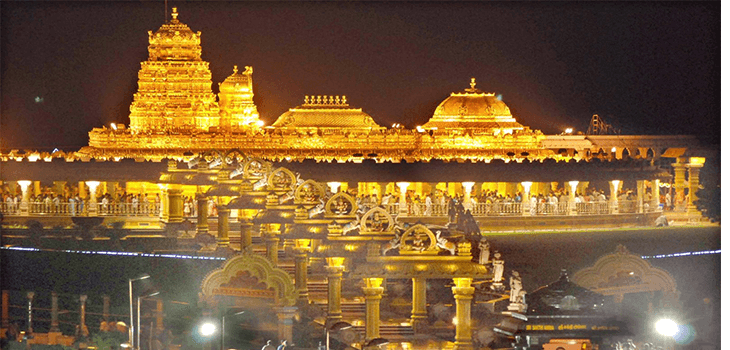 Sripuram : Golden Temple Tour (Tour Code : RC 4)
Places to visit
Vellore- Jalakanteswarar Temple - Ratangiri (Balamurugar Temple) - Prasanna Venkateswara Temple.
Sripuram Golden Temple (Vellore)
When uttered this word, immediately people thinks of Amritsar and the Highest Body of the Sikh's pride Golden Temple. But now it has got a good competition! Yes, an estimated over 600 Crores of Indian Rupees spent, to construct a true Golden Temple for Goddess Mahalakshmi , the presiding deity, (installed and maintained by Sri Narayani Peedam ) in this Temple at Sripuram , which is situated 6 km away from the District Headquarters - Vellore, North Arcot District in Tamilnadu. Now, the temple is complete, open to the general public; this town Sripuram has all the facilities one can visit to enjoy his/her spiritual experience.

A Mahalakshmi temple called 'Sripuram' and made of more than a ton of pure gold will glitter and gleam under the sun on August 24 when it is unveiled for consecration by the Sri Narayani Peetam headed by a 31-year-old godman who calls himself Narayani Amma. Devotees hail the temple as 'one of the wonders of the world' and say that it is the only temple covered fully with gold.

More than 400 gold and coppersmiths from the Tirupathi Thirumala Devasthanam are said to have worked for six years to craft the Rs. 600-crore Golden Temple located on 55,000 sq ft of land on a 100-acre salubrious stretch in Malaikodi, about 6 km from Vellore in north Tamil Nadu. According to official sources, the gold bars were purchased through RBI in "a transparent manner".
Jalakanteshwar Temple
Which houses a Architecture marvelous temple of Lord Shiva as Jalakanteshwar. Built around or before 1566 AD during the time of Veluri bommi Nripati called as also Chinna Bommi Nayaka. The temple which has been built in the Vijyanagar Style, comprises the main shrine and closed ambulatory passage around and the integral maha mandapa with a northward projecting sub shrine deemingly for Nataraja contains also a subterranean chamber below. It was a double prakara circuit. The kalyana mandapam the south west, espicially a gem of late Vijayanagar style in embellishments and the art motifs of its Pillars, ceilings, and plinth moldings'.
Rathinagiri
Rathinagiri Bala Murugan Temple was built around the 14th century. Over the passage of time an ordinary sand structure was converted into a stone shrine. Town buses are available from Vellore, town, A must pilgrim center for all.
Book Now
South India Tour Packages